Yalp+ is a free web app and an add-on that connects players to our interactive sport and play equipment all around the world. It offers even more fun and functionality in a user-friendly and straightforward way. For example, users can participate in local and global leagues every week and automatically find game information without the need for an account! The app automatically shows you the rules of the games currently available on the product.
Are you looking for an interactive nearby? Want to hold a competition with your friends? Become the best in the world? Create a challenging competition for your event? Yalp+ offers many new experiences for our interactives!
Free for all users
Suitable for all interactive devices
Finds active, interactive sport and play equipment in your neighborhood
Interactive game rules and explanations
Hall of fame
Events and competitions
1. Scan the QR sticker
Use your camera app to scan the QR Code for super-fast access;
Click on the link to open the website;
Or simply go to the website: app.yalp.com.
2. Discover the app & find an interactive
Automatically displays the correct information based on your GPS position;
You do not need to register or create an account;
It is fully responsive and designed for any platform;
Publicly available for everyone to use;
Uses the advantages of a Progressive Web App (PWA);
Completely free of charge!
3. Have fun!
View game information for the game you are playing;
A score will automatically appear on the web app. Claim your score by entering your own name and customize it with a cool & silly emoji;
The website recognizes when you go to a different interactive device (max. 50 m distance);
See and find all other active, interactive devices in your area;
Locations and events in the neighborhood.
Locations and events near you!
Events
Promote your location with Yalp+ through an event! How cool is that?! With the help of Yalp+, it's easy to realize. The app shows you which competitions are near you and which competitions you can expect. See past events that have already taken place and see if you are a winner. If you want to know more about the events, visit the events section in the web app!
It's straightforward and easy to use. Participants can go to app.yalp.com and claim their score by entering their name and email address. To make it extra fun, you can arrange a large screen where you can display your event in Yalp+, so you have a scoreboard throughout the day! When the players see that their high score is broken, they will definitely try again. This way, you'll keep challenging them!
Are the manager of an interactive and you want to organize your own event? It's super easy, go to custom games on the Yalp Store and order an event for your interactive. Do you have questions, or do you want to order a new game for an event? Please contact us for the possibilities!
Locations
In the 'Locations' tab of Yalp+, you will find a map of all interactives around the world. The closest interactives are shown first. You can switch between a map and a list of all the locations.
Because the interactive map is live, you can see exactly where you need to go to play. So come on! Go to the nearest interactive and earn a spot in the hall of fame!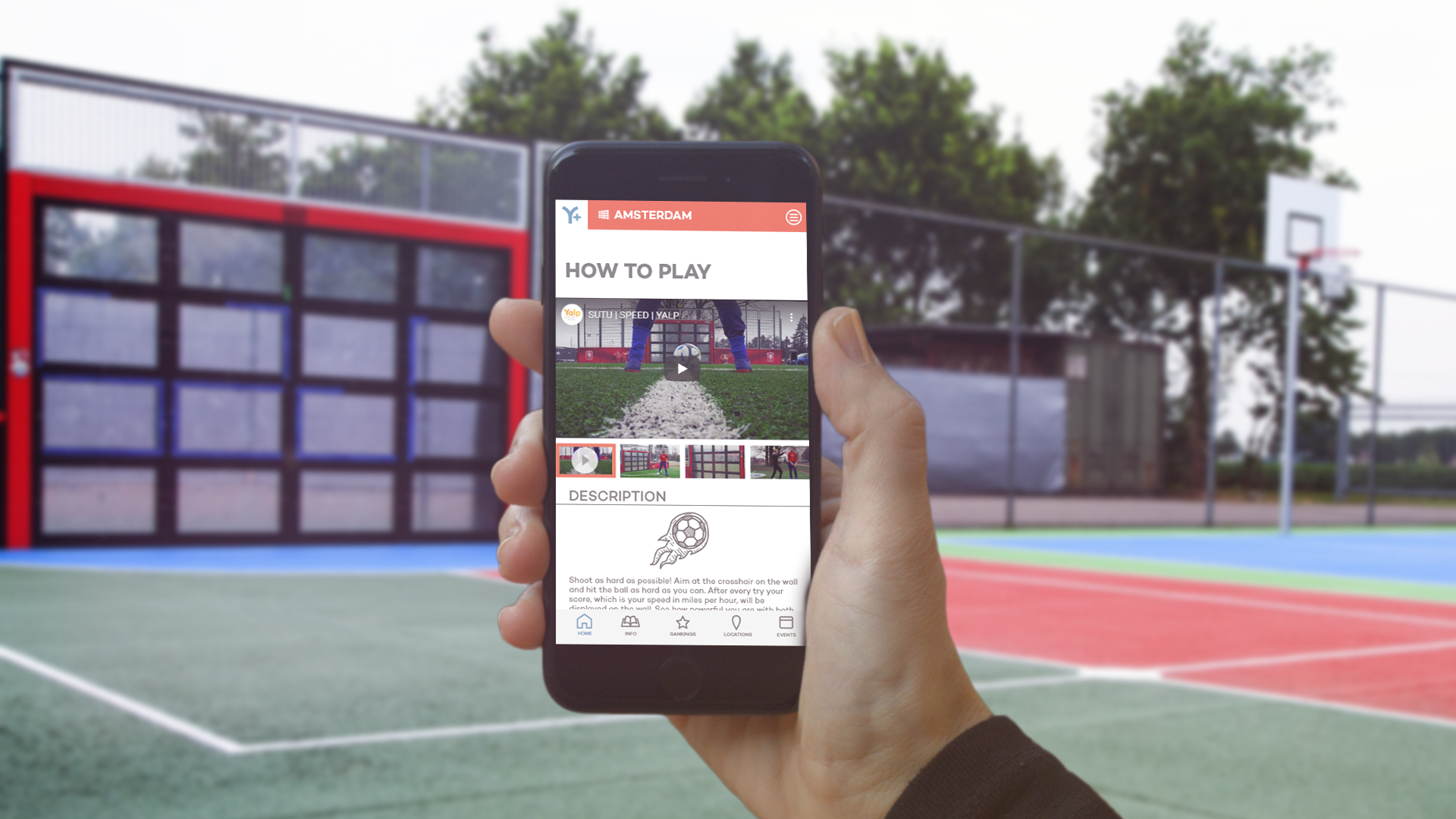 Game explanation
On Yalp+, you'll find a short explanation and the rules of the games currently available on the interactive you are visiting. Here you will also find information such as the duration of a game and with how many players the game can be enjoyed. It even shows information from My Yalp and the Yalp Store. Everything you need to get off to a running start, descriptions of the game, pictures, and trailers, etc.
Rankings
Enter the ultimate competition! Every week the list of scores is reset. That means that every week you have a chance to claim your place in the top 3! This can be local, national, or even worldwide. All achieved scores are automatically included in the ranking. Just so you know, only the high score games support rankings.
Did you make it to the top 3? Check the current high scores!
Hall of fame
Here you can claim your eternal glory! This is where you will find an overview of all the winners from the past. The summary is based on the 'Top 3'. They are all ranked by week number and year—the local, national, and worldwide results.
Have you already set a high score? Check to see if your result is listed!
Scan | Discover | Play!
Now you know what to do. Find the nearest interactive, find out how to play, and enjoy the extra features of Yalp. You might even win something!
May the best player win. Good luck!
Yalp+
You can read more information about the interactive sports and play equipment and learn from our client's experience, check out existing projects, and read up on our latest software.