Times are changing! 30 years ago, tennis courts were hot items on campgrounds. But recently, Owners Fokko Jr. and his father noticed that the tennis courts at their campground were being used less and less. A few years ago, one court had already been replaced by a soccer field. It was high time to also replace the other tennis court at Vacation destination Bergumermeer with a brand new play and sports field.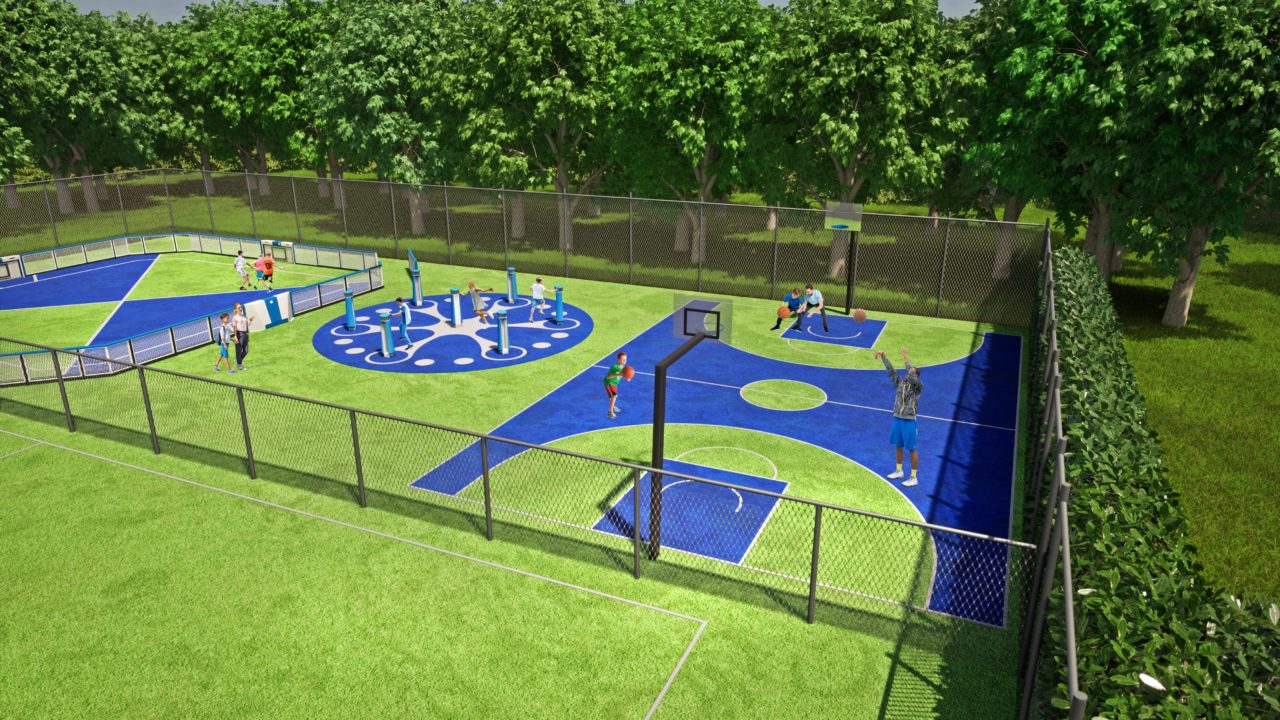 Activities for children between 12 and 16 years old
Fun activities for different age groups are important for a campsite. Fokko Eijbergen:
We've been looking for activities that are fun for children between 14 and 16 for a long time. And it's been terribly difficult because children need to remain stimulated and challenged. Internet on the computer and mobile phones play an important role in the lives of these children. What do you offer them at the campsite?
When Fokko came into contact with Yalp, he already had his eye on the interactive sports field, the Yalp Toro Interactive sports arena.
I immediately thought that was a nice playing field for those who like soccer.
Recreation consultant Marc van den Burg had three different designs based on that in combination with other equipment.
In the end, we went for the extended design that also included the Memo and a basketball court. We liked the Memo for the girls and boys who don't like soccer. And I did know that there were some people who played basketball, but that it would be used so much I didn't think beforehand.
Why an interactive playset?
We chose interactive playsets because there is a lot of variety in the games. This way children can choose a new game every time. We find that children are looking for a challenge and that games can quickly become boring. With the interactive playsets there is a wide choice of games. We also have many guests from Germany. The possibility of changing the language to German is very handy. By pressing the button for a few seconds, guests can change the language themselves, which is ideal!
Children don't get bored
When you're a campground owner making a new purchase, you always hope it will catch on with your guests. That is an exciting choice! Fokko:
It's a big investment that you hope the children will enjoy. Fortunately, I have received only positive reactions. Fathers, mothers and the children are very enthusiastic. In the evening I even have to send the children off the field. Surely that is the biggest compliment that it catches on!

On the Toro field everyone really participates; parents, brothers/sisters and boyfriends/girlfriends. All ages are participating. The field is actually used much more than just by the 14 to 16 age group, which we were orginally looking to facilatate.
It has truly become a meeting place!
It has become a meeting place
Visitors heavily used the sports field last summer.
The great thing is that the field has also acquired a social aspect at the campsite. Parents get to talk to each other, so the children also get to know each other. In the beginning you see children coming to the field alone or in pairs and after a week you see that they all interact with each other. It has really become a meeting place.
"Exceeds my expectations"
At Yalp, we're always happy with satisfied customers, and Bergumermeer certainly is! When asked if it was what you expected? Fokko replied:
Yes, definitely! My expectations were actually much lower than how it turned out. I knew what I was getting but you can't be sure that it will catch on. It is special to see that the sports field has so much appeal for our guests. The field is used much more than before. And I didn't expect that parents would also like it so much. That's really nice to see.