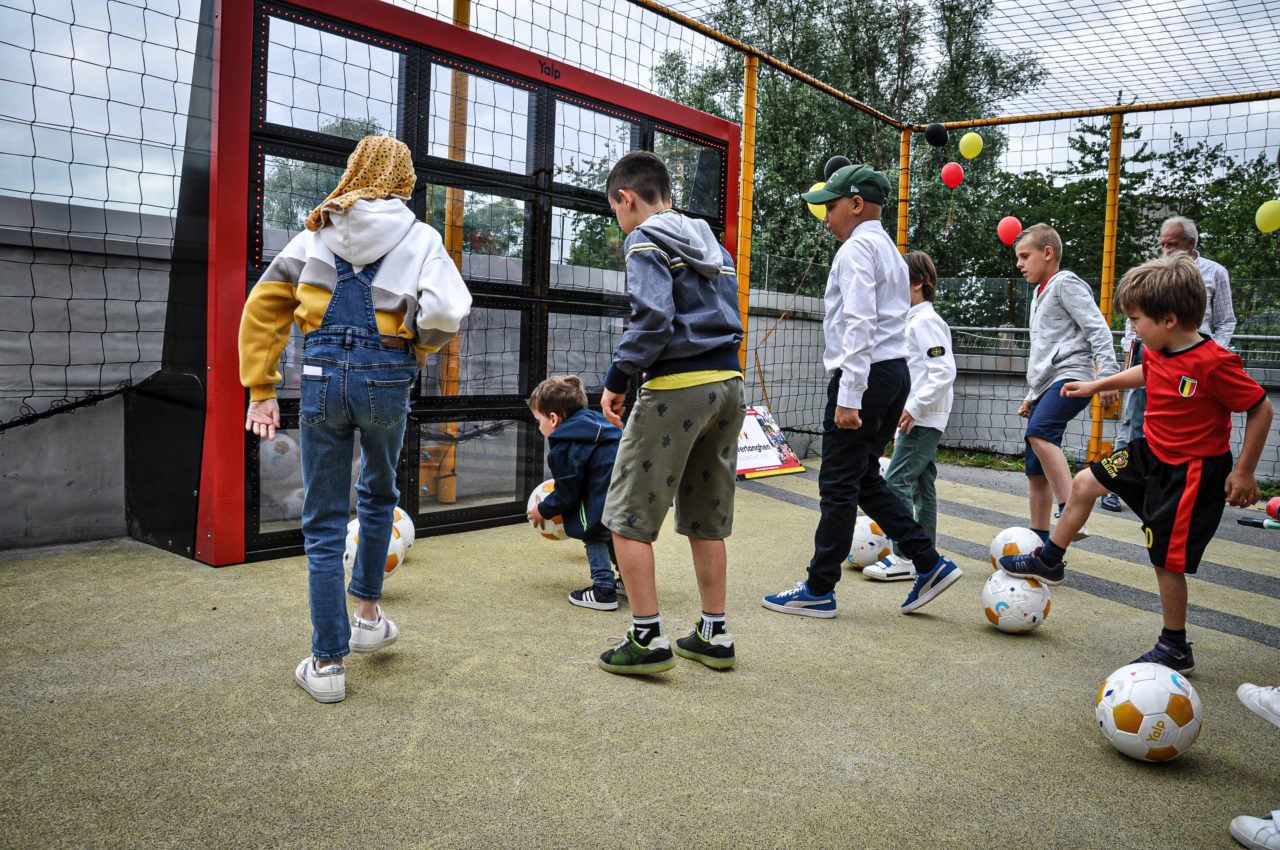 Why you should implement interactive play in a healthcare center
For the young and the elderly, abled and less abled, opportunities to play and let off steam should be provided everywhere. The interactive playsets invite everyone back to the playground, no matter your age or ability.
Attractive aspects:
Healthy and fun exercise
Positively stimulates the rehabilitation process
Always up-to-date with the latest content
Small footprint, large capacity
Intuitive gameplay
Solo or group play
Family fun; for all ages and abilities!
Elderly care
Countless elderly have limited mobility due to their age, as well as physical and psychological impairments. However, it is often the case that there is still a lot to be gained with an appropriate workout. Exercise ensures that seniors do not lose muscle mass and actively contributes to a good rhythm. Our interactive playsets are often a perfect addition to the healthcare institutes and are also available in indoor areas.
The Sona is becoming highly popular within the elderly care sector. Not only does it tailor to their physical activity needs, but it also stimulates the brain. We want to help you with the successful start of the new living and exercise garden.
Senior home, Hilverzorg, The Netherlands shows how elderly with (and without) dementia are getting outdoors more frequently and enjoy dancing and moving about together under their Sona. Music, sounds, and instructions trigger the passive elderly (passiveness being part of the dementia condition) to become physically revitalized and mentally alert.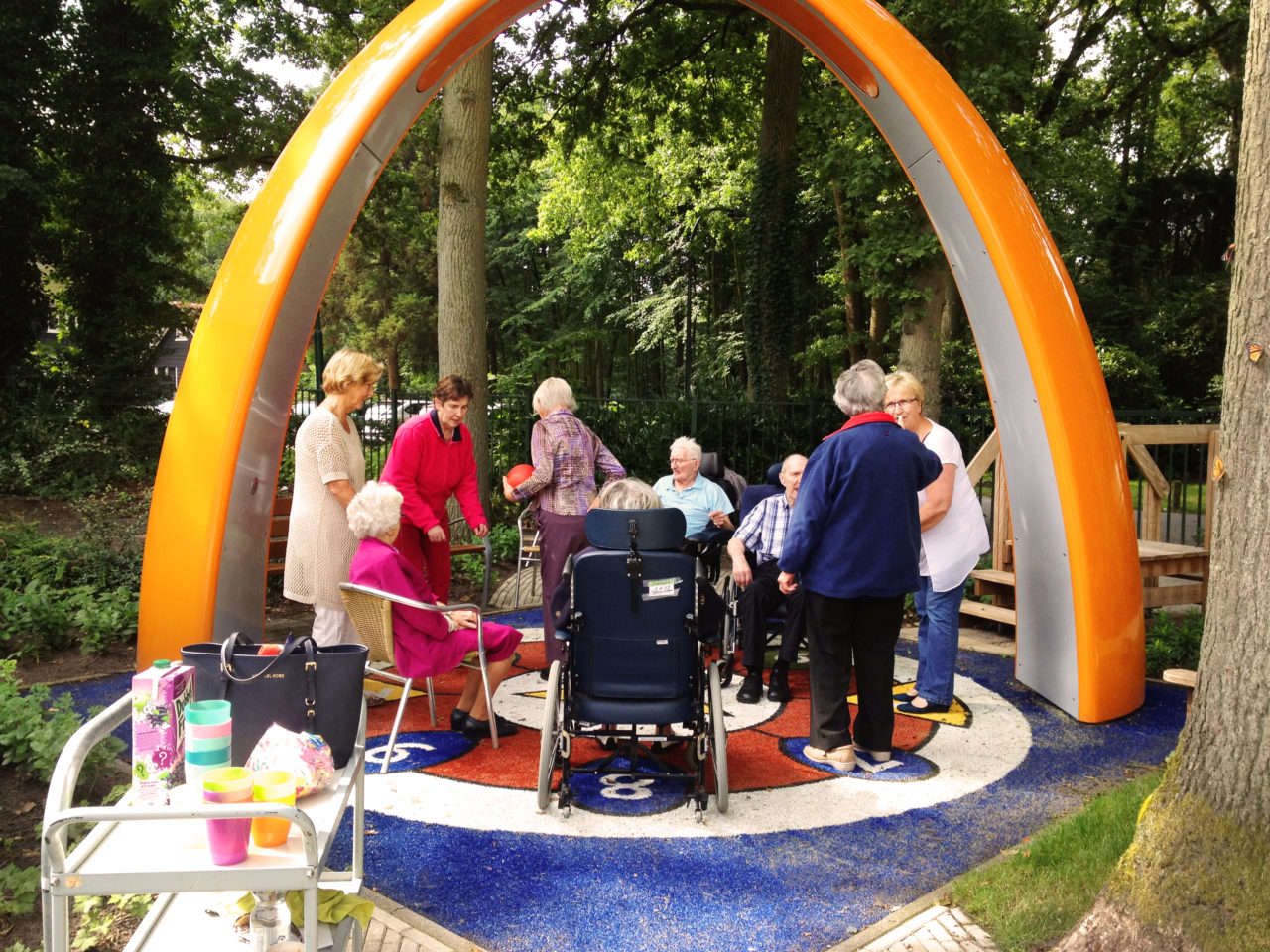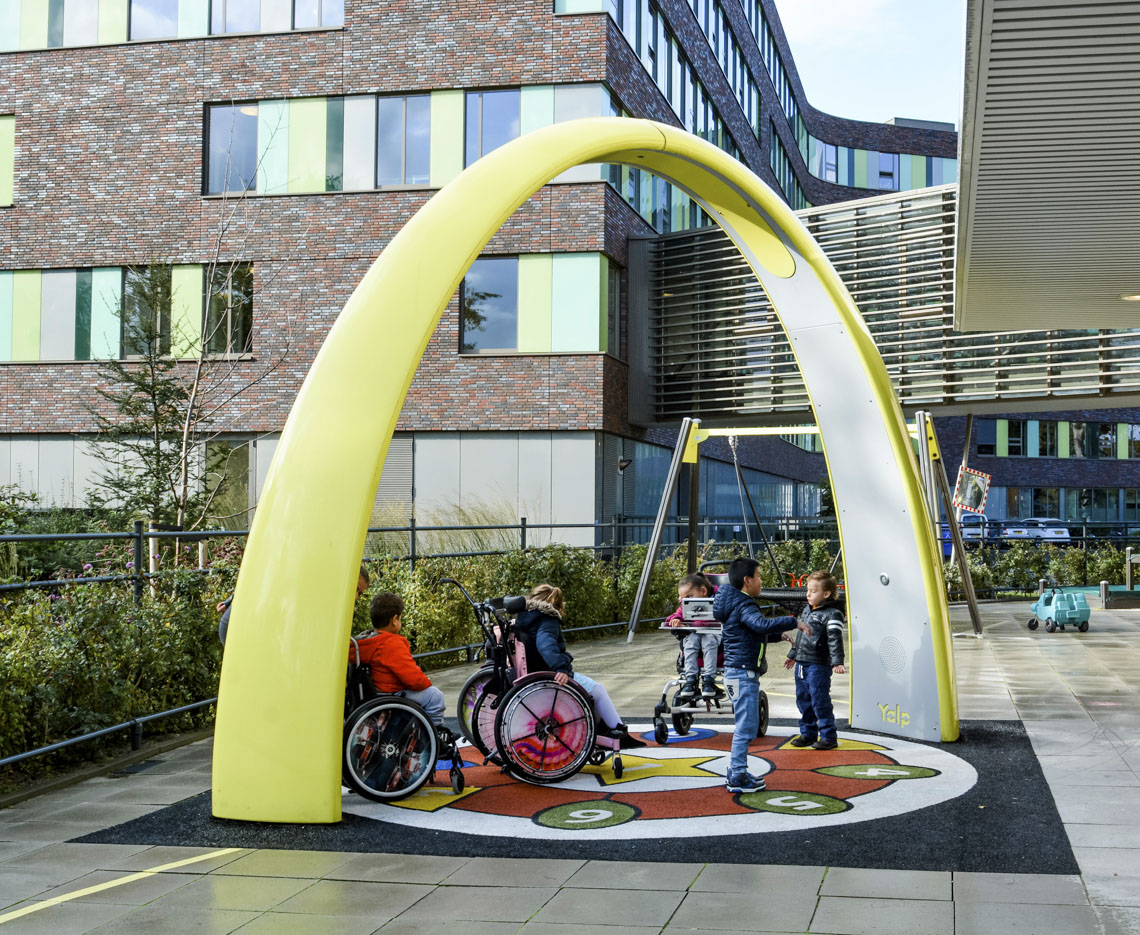 Children with special needs
During the design case of a playground, we often see that the group with special needs or limitations is most often forgotten. Most all-in playgrounds are usually only focused on one barrier or not exciting and challenging enough. Yalp designs play areas that specifically take care of children with disabilities into account.
By making a small adaptation to 'normal' playground equipment, children with disabilities can also play without the adjustment on the outside being noticeable. Playground equipment can give extra support, extra grip, or contain a play route low to the ground for children in a wheelchair or with a motor disability. Color markings or contrasts help as a guideline for visually impaired children. And rest areas in and next to the equipment help children with an attention disorder cope with experiences or relieve tension after playing. Having fun is essential to us at Yalp. If you experience pleasure, then you feel safe and wanted. From this safe feeling, you push the boundaries, and opportunities become visible. Yalp's interactive playsets are accessible, non-stigmatizing, challenging, and exciting for all ages and abilities.
Don't you want to learn more about Inclusive play?
Rehabilitation & recovery
Rehabilitation can be stressful, exhausting, mentally, and physically.
Exercise and play can take your mind off all your troubles, which is helpful even if it's for one minute. Through smart technology used in the interactive playsets, you make playing and rehabilitating more fun and more challenging.
Most people within care facilities spend relatively too much time inside – and thus remain inactive. It's a real pity. Exercise helps patients recover faster and also prevents re-injury. Rehabilitation exercise tries to bring patients back to full function, and it does this by restoring muscle strength, stamina, strength, and improving versatility.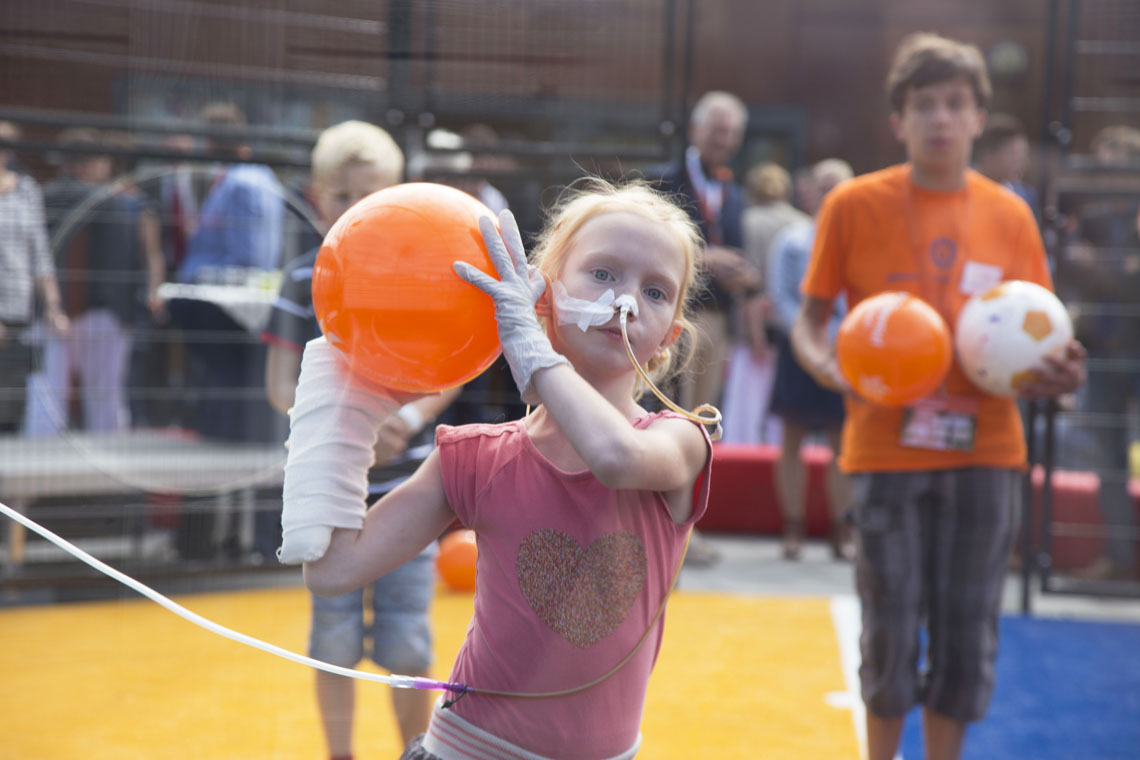 "Of course no one wants to stay in the hospital, but you can always try to make things as fun as possible. I certainly think this sports cage contributes to that."
– Jochem Uytdehaaghe, two-time Olympic ice-skating champion of 2002
Service Packages
At Yalp Interactive, we believe in delivering quality products. Our products are made from the finest materials, but we also want to provide high-class service. We additionally want to be able to provide customers with new games as quickly and efficiently as possible. We do this by delivering products that are connected to the internet so that we can be there for you 24/7.
All of the Yalp Interactive playground equipment come with a Standard service package. But the Carefree Pack truly provides a worry-free experience.
Find out all the details.
Electricity consumption: power supply or Yalp Solar
The interactive play equipment requires little electricity, about the same amount as a light bulb. All you need to connect the devices is a simple power connection. We also offer the 'green' solution for your own energy supply: Yalp Solar.
Specially developed and designed for Yalp's interactive playground equipment!
My Yalp
The Yalp Interactive playsets are easy to operate with My Yalp. Thanks to being internet-connected, you can change the settings remotely with any device (cell phone, tablet, or PC). Your personal login also gives you access to advanced usage statistics that can be tracked live!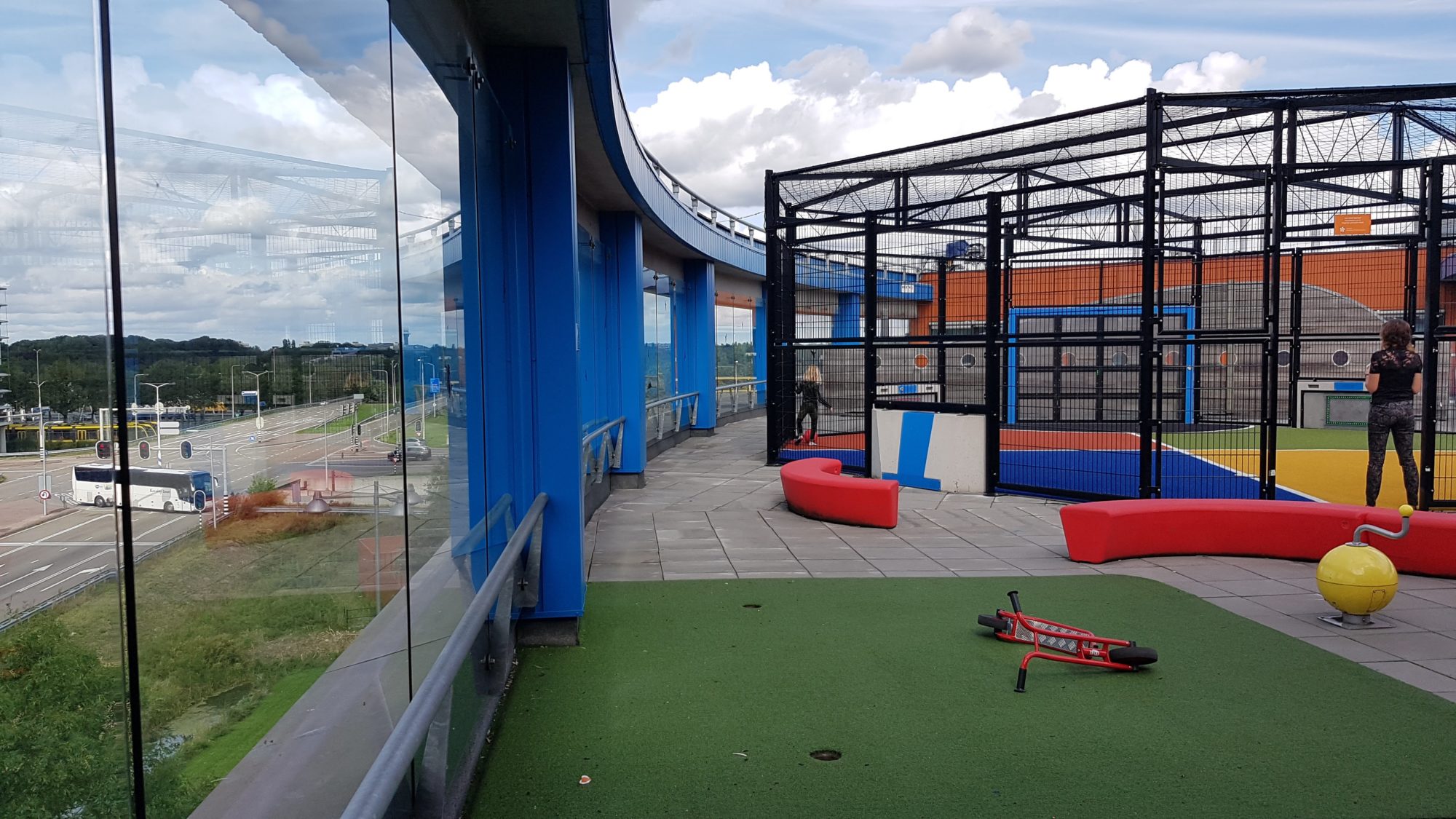 The interactive sports and play equipment