The online tool for your interactive playset!
My Yalp is an online tool/platform where you can manage your interactive playset, find and download the latest game content, and see how well your product performs.
Our designers invest a lot of time in the usability of My Yalp. Our starting point: keep it simple. If someone can control a smartphone, they can also control and manage an interactive playset.
On/off time settings
Volume settings
Game selection
Usage statistics
Language settings
Assign multiple users
The games

Our Research & Development team has developed a wide range of games for our interactive sports and play equipment. From skill training games on the Sutu and Toro (e.g., target practice or ball control games) to educational games on the Memo (e.g., language or mathematics games).
Our team is continuously improving existing and developing new game content. This way, your interactive playset always remains up-to-date and fun as our game store keeps growing.
Best of all: you are in control of enabling and disabling the games on your product. You can either do this manually or turn on the Game Rotator tool in My Yalp. This tool automatically switches the least played games by another (inactive) game that you already own. This way, the players' favorite games will always stay online. You just have to turn on one switch, select how often you want the games to rotate (weekly, monthly, quarterly), and the interactive playset will do the work for you.
If you would like to know more about how to spend your credits on fresh content, custom games, and the many amazing possibilities of My Yalp, don't hesitate to contact us!
Volume & time settings
You can pre-set your product's time and volume settings for the entire week. If you want your product to be on at 5 am and shut down at 10 pm, you can easily adjust this in My Yalp. The same goes for the volume settings; you can pre-set your volume to automatically decrease at busy or quiet times. For example, at schools, increase the volume during recess and reduce during class to prevent noise nuisance.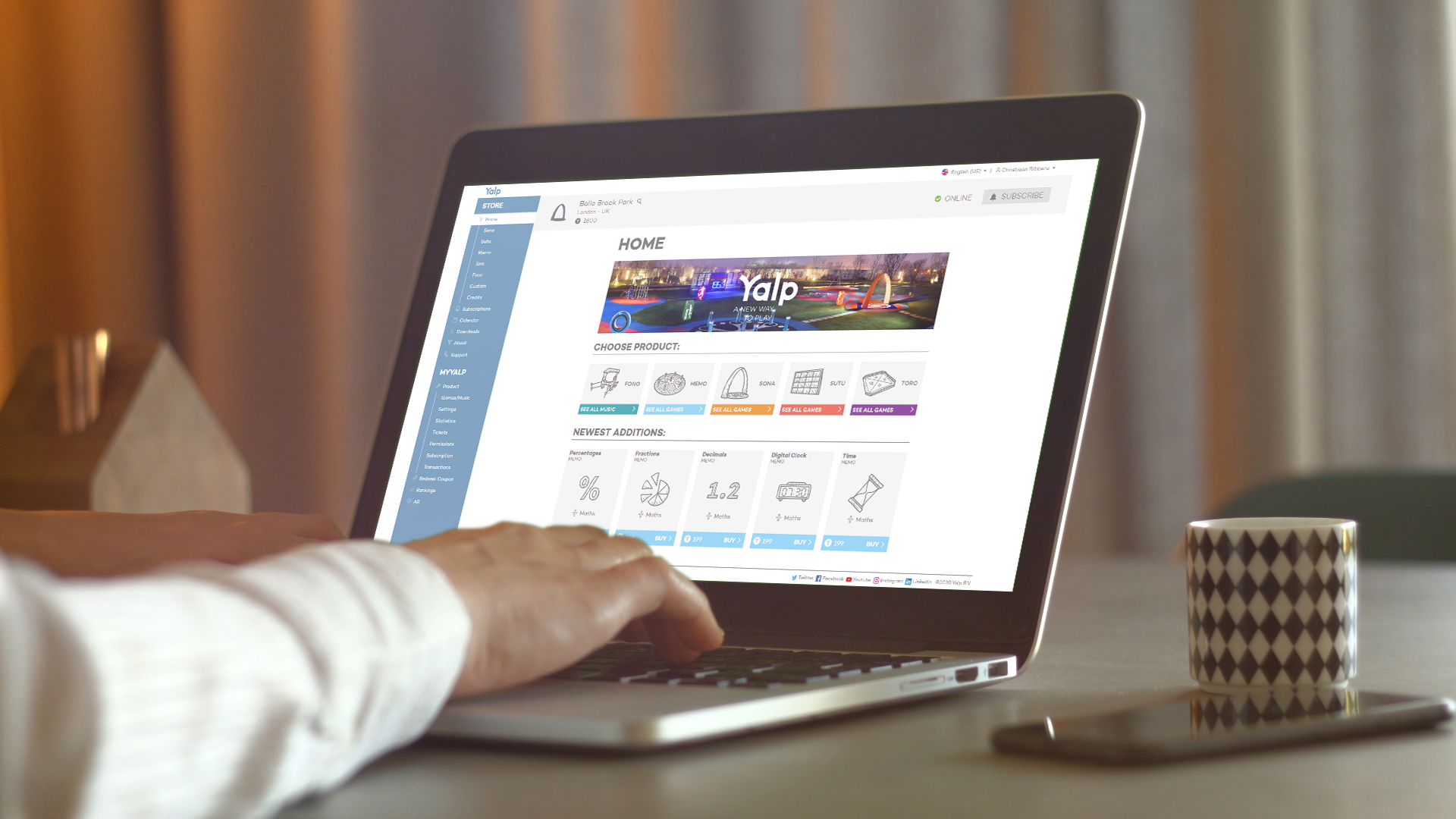 Add more languages
Because we sell our products worldwide, our games come in many different languages! Adding multiple languages to your interactive playset makes it more attractive if you have international visitors in your park or want to teach a language in school. You can easily buy additional languages for the games you already own with your credits.
Users
You can choose to add multiple users to your My Yalp account.
Always up-to-date
When you log in, you can see what you have missed since your last visit. By clicking your name, you can view all your notifications. With many automatic updates or adjustments, you can see what has changed since your last visit.
What kind of notifications can I expect? 
"A game has been downloaded and installed on your product."
"Credits have been added to your account."
"A ticket has been created."
These are just a few examples. You can enable the option to receive e-mail notifications if you don't want to log in every day, so you never miss a thing!
Keep an eye on our My Yalp calendar for the next game releases and updates!
One account for everything
All of the Yalp Interactive playground equipment come with a Standard service package. This includes a My Yalp account. You will receive login information from us, so you start managing your product. Would you like your colleagues to be able to log in as well? You can add additional users to manage your product together!
The statistics
Because the interactive playsets are internet-connected, they can process and measure user data. You can check your play statistics, which game is the most popular, and compare your play hours with other interactive playsets worldwide!
The top five games
You can view the five most popular games of your product, including the average number of play hours.
Daily play hours
Do you want to know how well your product is performing during the holiday season? With this handy tool, you can check out which week, month, year, or set period, have the most play hours, and compare it to other dates.
Play activity
Discover your trends here! Is your product played all day long, or is it spread gradually throughout the day? This information can help you set your on and off times!
Ranking Overview
Curious about your product's performance compared to others? In the rankings tab, you can find an overview of all products worldwide. You can filter your product and segment and check your status. Not as high in the rankings as you hoped you would be? Challenge the players!
Control your interactive playset from any device!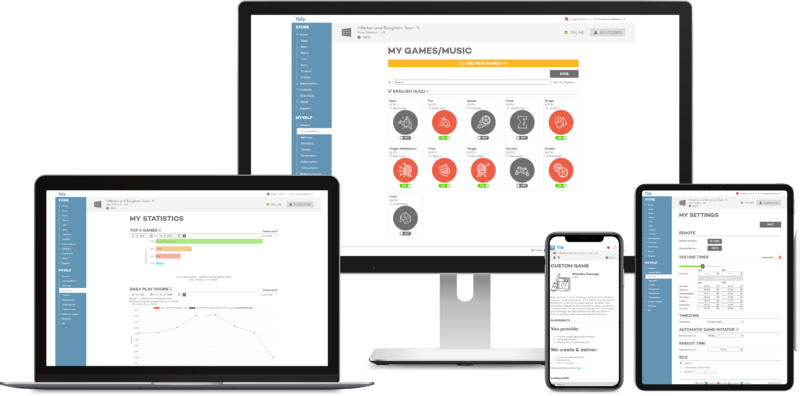 Credits
You can track and trace all your expenses and gifts in the credits tab. At the top next to the selected product, you can view your total amount of credits.
Maybe the amount you have will surprise you? Surprise the players with a fun, new game!
Check out the game store
Service
If you have a question or problem with your interactive playset, quickly use the help desk tickets via the My Yalp platform. Our in-house service team will then take care of the matter and provide you online service and assistance.
Most of the time, our interactive playsets detect technical problems themselves and automatically send us tickets to solve the matter remotely. For example, if a playset is offline for a few days and doesn't receive updates, our service team will receive a ticket that addresses the error.
Standard Service Package

All of the Yalp Interactive playground equipment come with a Standard service package. Which include the following regarding My Yalp.
Games Bundle – Comes by default with our 5 best games
My Yalp – Lifelong My Yalp access; remotely control your product and more
Updates Lifelong –firmware & software updates
For a Care-free experience upgrade to the Carefree Pack
Includes everything that's part of the standard pack
3000 Yalp credits – Use these credits to unlock games, standby modes, music packs, or custom games on your product
Content manager – We will take care of installing new games and keep you and your product up-to-date
For more information on the Service Packages please refer to the Service Package page or contact our Service team!