JFK park has recently undergone a significant makeover
Reynoldsburg JFK park is unique in so many ways! The park needed a makeover, and Reynoldsburg Park and Recreation team were ready for the task! With one obvious objective from the beginning, Reynoldsburg Park and Recreation wanted to create a barrier-free and accessible play experience for the people of Reynoldsburg, Ohio. One of their goals was to bring all children together to be active and creative in their play.
It's safe to say that this has been achieved. In May 2022 alone, the Reynoldsburg Sona has been played for 83.8 hours and is the third most played Sona in the United States!
Donna Bauman, Park, and Recreation Director noted,
While attending the 2019 Ohio Parks and Recreation Association Conference and Trade Show, the Yalp Sona Interactive dance and play arch was set up at the Midstates Recreation booth. I was actively researching equipment for our playground re-design. The Sona was a show stopper, and I knew I had to find a way to get this for Reynoldsburg! Everything about the Sona spoke to me.
I spoke with Yalp representatives at Midstates Recreation, and they explained all the different sports and play equipment options. I knew I liked the Sona from the conference and my mind was pretty well made up by the time we met in August 2019. I firmly believed that the Sona was the right fit for Reynoldsburg. The look, ease of maintenance, and especially the inclusivity of the Sona are some of the reasons why the Sona was selected. I liked that park patron of all ages and abilities would be able to enjoy this interactive piece of playground equipment. The various games offered to enhance gross motor skills and cognitive development were a huge selling point. I like how the Sona gets kiddos and adults to engage with one another and build relationships.
This Sona is unique because the park and recreation team decided to get a custom floor designed to pay homage to Reynoldsburg native Alexander Livingston, often referred to as the "father of the modern tomato."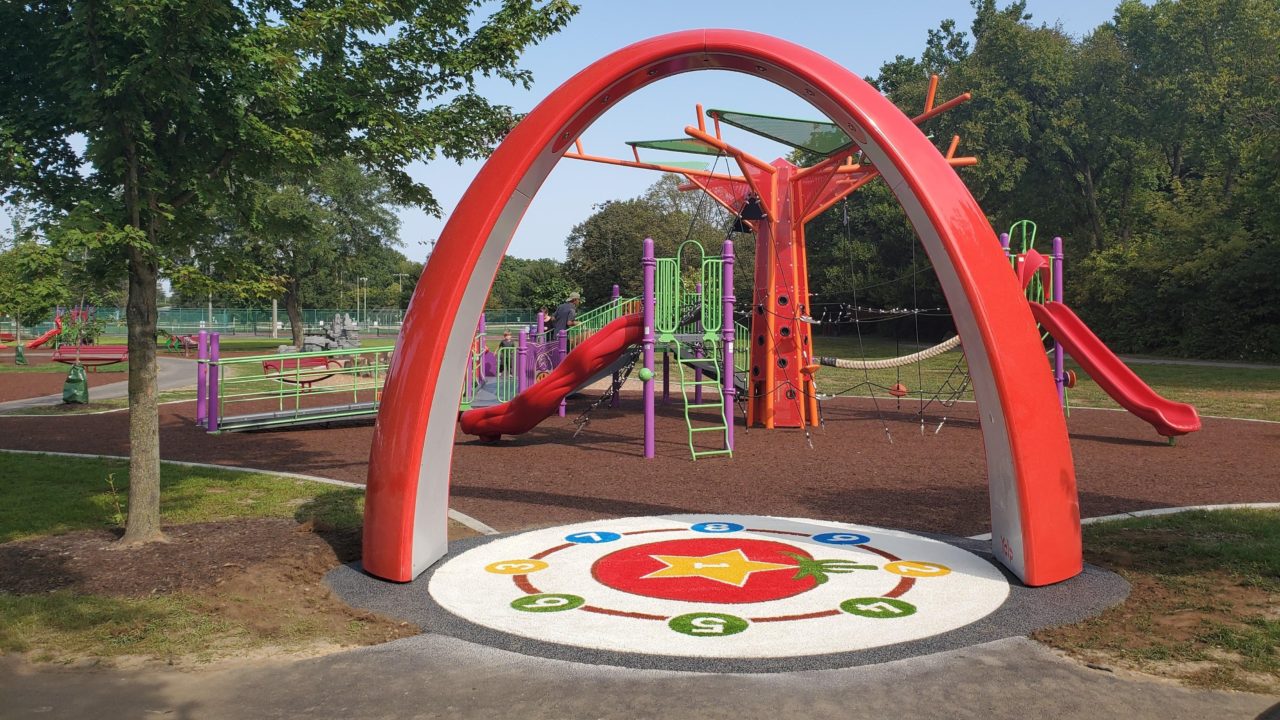 "I highly recommend the Sona to any agency looking to add an inclusive element to their park. I cannot express enough the amount of laughter, fun, and friendship I have witnessed by park patrons. The Sona helps kids learn while having fun. "
We at Yalp are happy to hear that the Yalp Sona at Reynoldsburg has met the expectations of the park and recreation team but also the park patrons! When asking Donna Bauman if the product has met her expectations, she stated the following.
Because the statistics that I can see on My Yalp speak volumes! This shows that the Sona is receiving a lot of playtimes. I have also talked with parents, grandparents, kiddos, etc. They have all expressed how much fun the Sona is and are extremely happy that we have one in our park.