Don't they break down due to, say, vandalism? Do they stay well maintained? Are they up to heavy-duty use? Electronics in playground equipment, does that work well?
These are the questions we are regularly asked about our interactive sports and play equipment. For all of these reasons, we have developed our products so there would be no concerns. Below you can read what measures have been taken concerning our interactive play equipment. These are the conceptual principles of our designers.
Do you want to learn more about our product design principles? Check out this blog; "The 5 R&D Design Principles of Interactive Playground Equipment!"
The following applies to all interactive sports and play equipment:
The electronics are built into a water- and dustproof IP54 housing
The bolts we use are theft-proof
The whole device works with low voltage
The sound effects were recorded in a professional studio
All devices are suitable for inclusive gaming
EN1176 certified on playground safety
IEC62368-1 CB Scheme certified on electrical safety
Internet connection for maintenance, new games/music & updates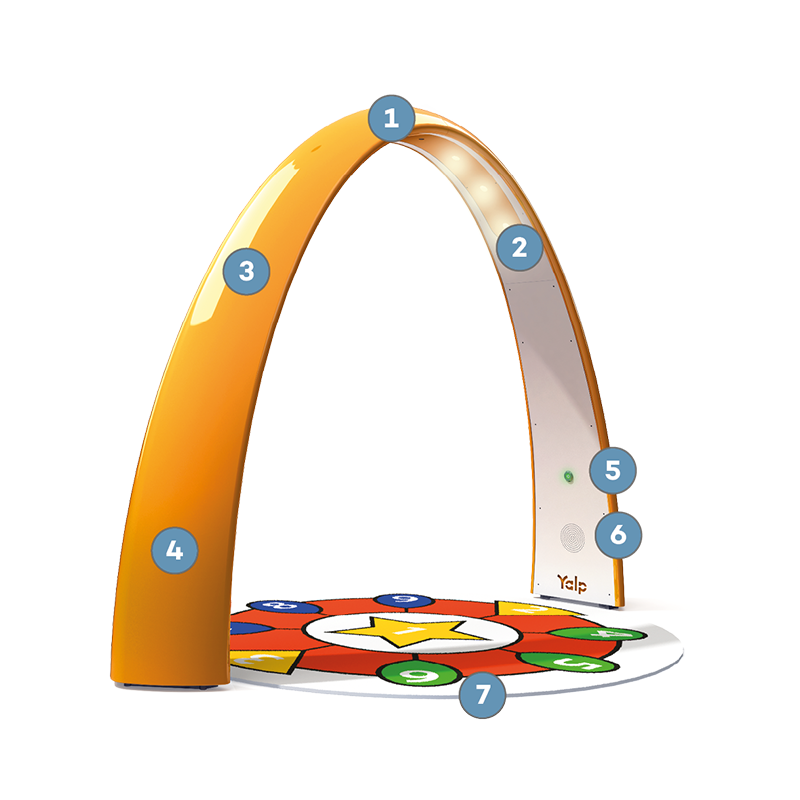 Yalp Sona
The cover consists of glass fiber reinforced polyester with additional reinforcements against, e.g., hammer blows
The construction of the Yalp Sona is made of thick steel and covered with stainless steel (visible parts)
The metal is protected with a powder-coat. This makes it resistant to weather influences
It is impossible to climb into the Yalp Sona, and it is free of loose parts and barriers
The Yalp Sona is free of sharp edges or entrapment holes.
Fun facts: The Yalp Sona is the first interactive playset (the first one was placed in March 2007). The shape of the Sona was inspired by the gate in the Lord of the Rings: a magical gate you want to walk through. It weighs as heavy as 6 grown men.
Specifications
Motion detection camera
Light module
Internal steel construction
Eye-catching arch (different colors)
Choose a game (push and play!)
Loudspeaker
Playing surface (adaptable)
Yalp Memo
High-quality powder-coated stainless steel construction
The posts' caps are thick, to protect the posts from damage by, e.g., sharp objects
The touchscreens are made of polycarbonate (impact-resistant material)
The polycarbonate casing is waterproof and has an internal climate control system that allows the posts to be cooled or heated
The main post contains an intelligent lock as an additional safeguard against vandalism
Fun facts: Yalp Memo was developed in cooperation with the University of Lapland and Delft, has 5367 LED lights, and more than 500,000 math equations to solve.
Specifications
Choose a game at the main column (Push and play!)
Powder-coated stainless steel construction
6 play columns in a circle of 6m/20ft diameter
360-degree touch screen
Playing surface (adaptable)
Yalp Sutu
The Yalp Sutu goals had to withstand severe stress tests. For example, they were successfully tested for resistance to substantial impacts (1,000 times 50 kg) and temperature differences (- 35°C to +85°C)
The interactive panels are made of impact-resistant polycarbonate
Just as with the Yalp Sona, it is not possible to climb unto the Yalp Sutu. The back is covered with steel to protect against vandalism.
To withstand the hard impact of balls, the panel holders are made of special elastic steel
Fun facts: The Yalp Sutu has a speed sensor in the middle of the wall (similar to a speed gun used in law-enforcement to measure moving objects) that measures the impact of the ball when it hits the wall. Sutu is derived from Dutch street slang and is the Surinam word for "shooting".
Specifications
4 Loudspeakers for multi directional game feedback
Choose a game (Push and play!)
Vandalism-proof LED panels
Powder-coated steel construction (different colors)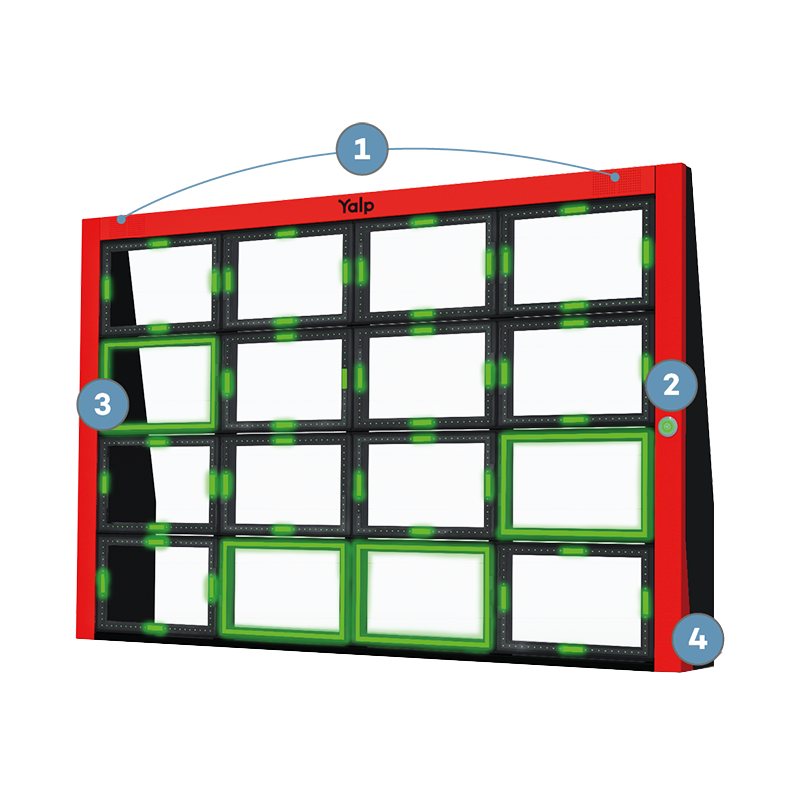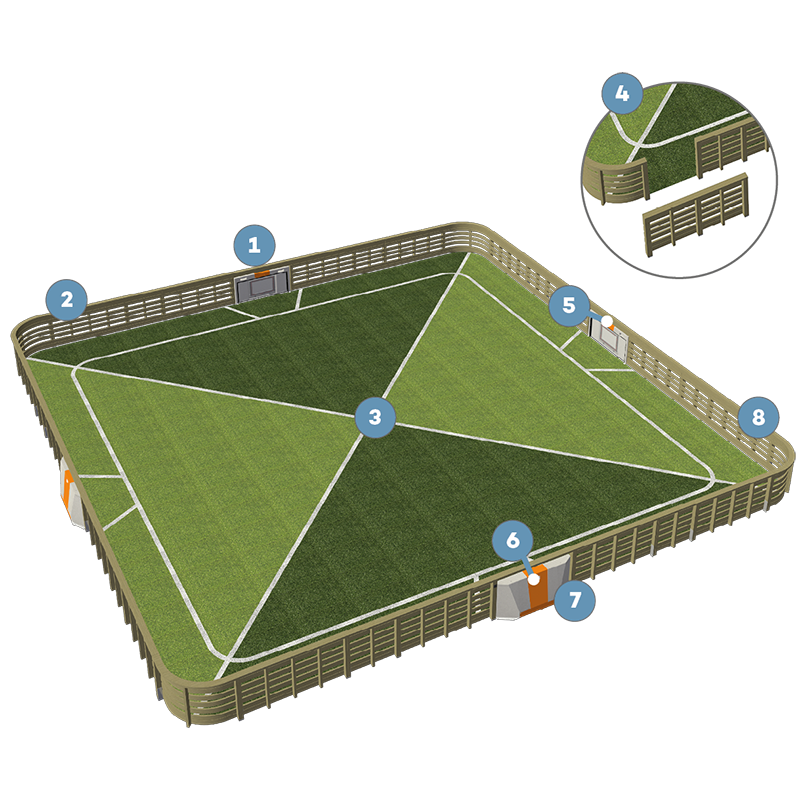 Yalp Toro
The goals consist of self-compacting concrete with a high-quality surface.
The panels are made of polycarbonate (impact-resistant material)
The fencing system is interchangeable. In the picture the Lappset Arcsports fencing.
Our Yalp steel fencing system with HPL covers is available.
Fun facts: Yalp Toro was developed with former national fieldhockey coach and olympic gold winner Marc Lammers and is suitable for ball sports like football, hockey and street hockey.
Specifications
Choose a game at the main goal (Push and play!)
Fencing system (adjustable)
All inclusive entrance (optional)
LED panels
Basic goals (3x)
Powder-coated steel protection cover of the goals
Strong concrete base of the goals
Rounded corners to keep the ball in play for a more active game
Yalp Fono
Like the Yalp Toro, the Yalp Fono consists of self-compacting concrete with a high-quality surface
Consists of high-quality stainless steel for the best protection outdoors
Secured with special anti-theft fasteners (also used in prisons to secure furniture)
The speakers are suitable for outdoor use and are additionally secured
The Yalp Fono has survived multiple resistance tests, e.g., sand, chewing gum, water, Red Bull, cola, frost, and heat!
Fun facts: Yalp Fono weighs as much as a car (1500 Kg), amplifies telephone music with a special patented technology, and was succesfully tested on the polar circle in Rovaniemi, Finland, for cold climate resistance.
Discover more about our products in cold climates
Specifications
High class concrete base
Chill tubes to hang out with friends
Loudspeakers, covered with stainless steel grille
DJ mixing desk with real turning discs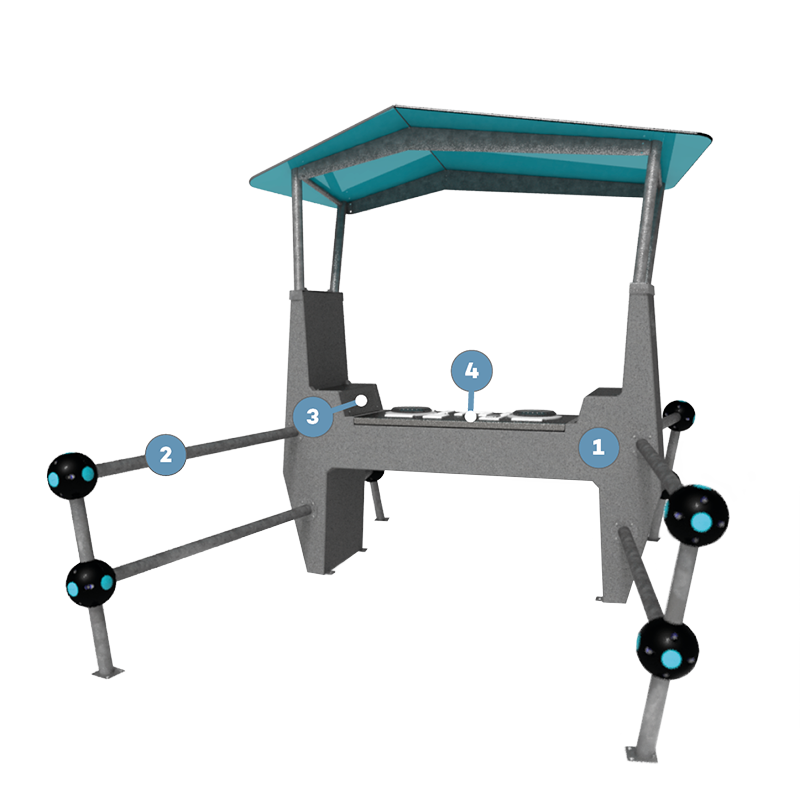 Warranty, Service & Support
Our commitment is to make sure that our customers can enjoy our Yalp interactives worry-free. With over the hundreds of products installed around the world for the past 11 years and heading to have over 1.000 installations in 2020 (just check our activity map), we know the importance of good quality, and we know it will last. Therefore we are confident to show it in our service and in our warranty terms. Our products are monitored and serviced 24/7 by our service department, and our warranty covers 10 years for the main construction and 5 years for electronics.
Yalp product warranty details, limitations and exclusions
10-year warranty for the main construction and 5-year warranty for electronics
Product activation, to receive important software updates
SIM card and data subscription included
Personal login to access the My Yalp tool and Game Store
Access to valuable user statistics in My Yalp dashboard
Support and online training by Yalp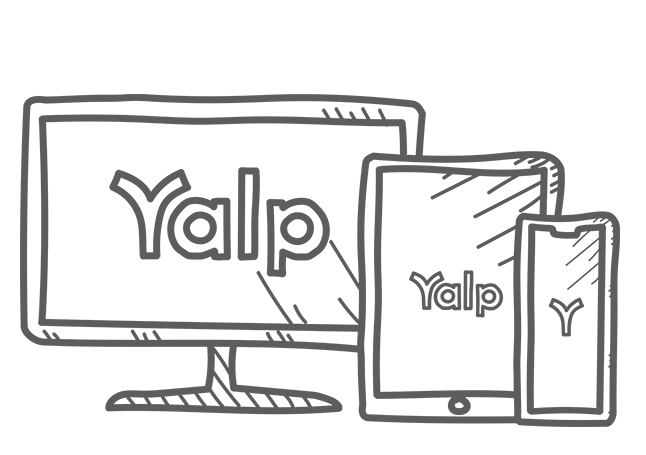 My Yalp
My Yalp is our online tool and a platform where you can manage your interactive playset, find new games, and add them to the product. Managing our app is very important to us, and our designers invest a lot of time in it. The basic idea is that anyone who can operate a smartphone can control and manage our interactive playsets.
Set on and off times
Adjusting the volume
Select games
Show statistics
Set languages
Assign multiple users
We're ready to help!
If you have any service or warranty related questions, please contact our service team.
Let's Talk!